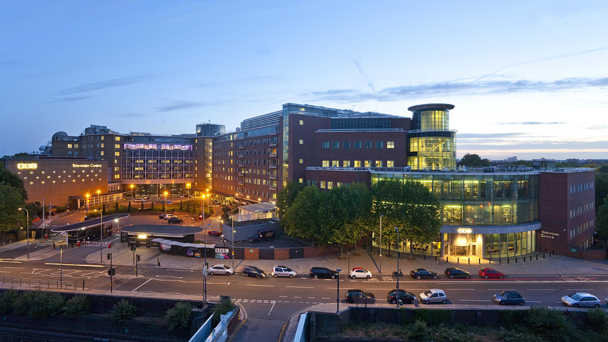 BBC Four and stars say goodbye to Television Centre
Richard Klein, Controller of BBC Four, today announces the star-filled commission of Goodbye Television Centre, a 1x120 mins programme to celebrate 53 years of history behind the iconic building. Some of the biggest BBC stars of all time will gather together for one last time to bid the old building a fond farewell.
To tx in March 2013, former BBC Chairman Michael Grade will invite an exciting array of people from the worlds of sport, acting, journalism, music and entertainment to assemble in the BBC's Studio One in front of a studio audience, where they will talk about their favourite Television Centre memories.
Richard Klein, Controller of BBC Four, says: "TVC is quite simply the greatest television stage on Earth and BBC Four is going to celebrate all that is wonderful about it in a whole night of programming in March. What was made at TVC – the dramas, the sit-coms, the music shows, the glitzy dance and entertainment extravaganzas, the comedies, the news – everything – form part of Britain's collective history. These shows, from The Two Ronnies to The Old Grey Whistle Test, from Newsnight to Grandstand, from Strictly Come Dancing to Morecambe and Wise – are lodged in our memories and Four intends to salute the passing of this era with a fond and uplifting farewell night."
The BBC guest stars will recount stories as they reminisce about the times they spent at the BBC's flagship studios. What did they do when there was a power cut on the launch night of BBC Two, and why did everyone blame Michael Bentine for the 1965 armed robbery? All of them will be giving us a personal insight into their experiences at TVC.
Viewers will gain an exciting vision into some of our most loved BBC shows, all produced in the great Television Centre. Roving reporter Victoria Coren will also take the viewers on a special tour of the BBC - from the studios that housed Monty Python's Parrot sketch, Del Boy's Living Room and Miranda's shop, to the path Alan Partridge took while running through the building with some stolen Stilton!
Joining him on the sofa will be a whole host of legendary faces:
Sir David Attenborough
Penelope Keith
Ronnie Corbett
Sir Michael Parkinson
Jeremy Paxman
Noel Edmonds
Sir Terry Wogan
Mark Lawson
Richard Briers
Sir David Jason
Zoe Ball
Philip Schofield
Gary Lineker
Chris Hollins
Bob Harris
Fiona Bruce
VT Guests confirmed:
Barry Cryer
Brian Blessed
Alan Yentob
The famed building has brought us decades of programming and has created treasured household names. Goodbye Television Centre will look at the nostalgic history created by the stars of the small screen, both on and off camera, since the 1960s. Comedy shows, talk shows, entertainment shows, children's television, music and drama – they were all born from the famous Television Centre.
London's TVC has been a hub of creativity from the moment it opened its doors on 29 June 1960, to the moment it will close them on 31 March 2013. So joins us to say, Goodbye Television Centre.
Goodbye Television Centre is Executive Produced by Caroline Wright and Produced by Lucy Kenwright and Genevieve Dolittle.